10 Thoughtful Dad Memorial Gifts
Losing a father is one of the most heart-wrenching experiences a person can face. As a friend, it can be difficult to know how to help someone who is mourning such a devastating loss.
Simply offering a shoulder to cry on is often enough. However, if you're searching for a more tangible way to show your love and support, we can help.  
We have handpicked these dad memorial gifts that will surely provide comfort and pay tribute to the life of their father.
A Personalized Wind Chime
Wind chimes have become one of the most popular memorial gifts and it's for good reason. Not only are the sounds produced by wind chimes soothing and peaceful, many people associate them with the presence of their lost loved ones. A memorial wind chime personalized with the father's name makes a thoughtful sympathy gift for anyone grieving the loss of their dad.
Here are our top-rated father memorial wind chimes:
Listen to the Wind Memorial Wind Chime
Golfing in Heaven Memorial Wind Chime
Gone Fishing Memorial Wind Chime
Hunting in Heaven Memorial Wind Chime
A Memorial Picture Frame
A dad memorial picture frame is a beautiful way to incorporate a father's memory into your home décor. Personalized father memorial picture frames come in a variety of sizes, colors and sayings. We love this Dad Memorial Poem Picture Frame or this "A Limb From Our Family Tree Has Fallen" memorial picture frame.
A Grief Journal
One of the most difficult parts of losing a loved one is losing the line of communication. That's where this "Letters to My Dad in Heaven" journal comes in. It gives the grieving child a place to share their thoughts and feelings and all those things they wish they could tell their dad.  
A Memorial Lantern
Like wind chimes, memorial lanterns have become an increasingly popular bereavement gift. Not only do they make a beautiful remembrance gift, they are also attractive home décor pieces.  We recommend this "Father's Light" Memorial Lantern – it's personalized with the father's name and years of life and it includes a flameless LED light.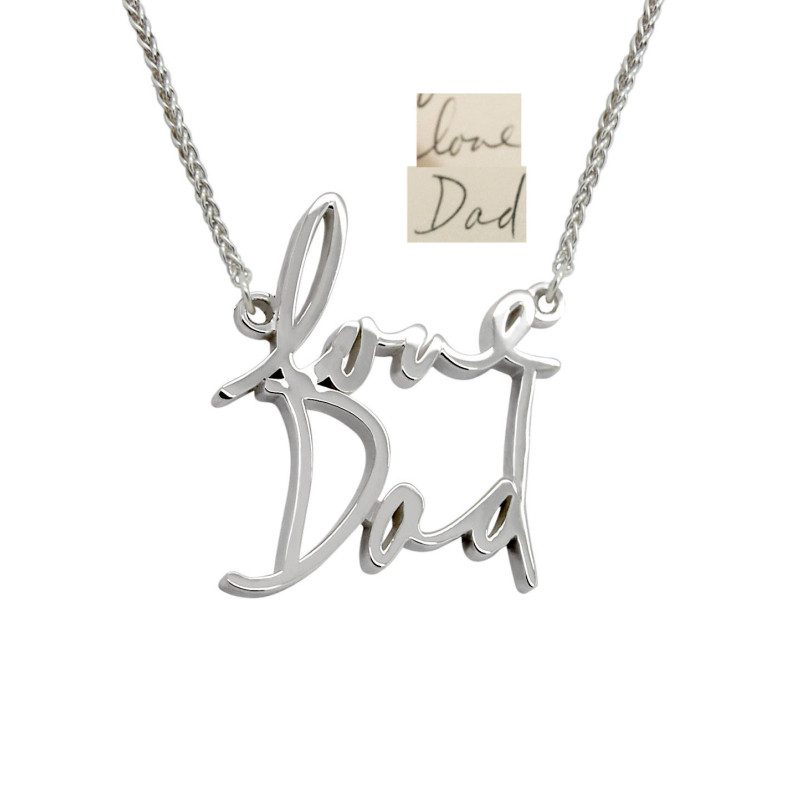 Memorial Jewelry
Give the grieving child something they can wear every day as a remembrance of their father. There are so many different types of memorial jewelry, including personalized urn necklaces, dad's handwriting necklaces and photo lockets.  
A Memorial Plaque
Keeping on the theme of memorial home décor items, a memorial plaque is another wonderful way honor the life of father. You can find memorial plaques that can be displayed indoors or outdoors. We love this Dad Memorial Wooden Heart Plaque and this tree memorial plaque.    
A Memorial Ornament
The holidays can be an especially difficult time for a mourning family. A father memorial ornament is not only a comforting gift for the first Christmas without him, it is something the family will cherish for years to come.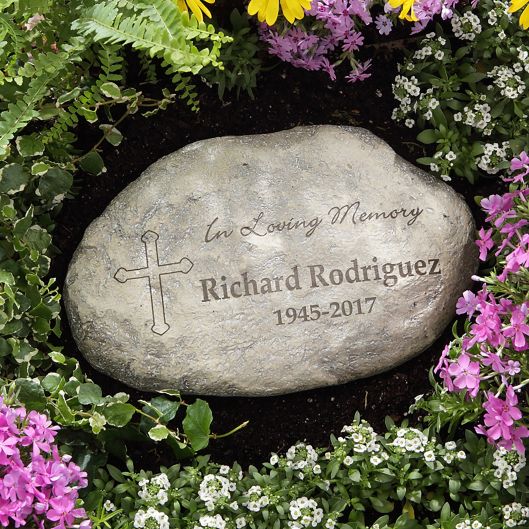 A Memorial Garden Stone
If the recipient has an outdoor space that they love, consider gifting them a memorial garden stone in honor of their father. This personalized "In loving memory" garden stone is simple, yet elegant.
A Memory Keepsake Box
A personalized memory keepsake box is a great place to keep all the things that remind them of dad. Whether it's pictures, letters, cards or small personal items that once belonged to him, a memory box will help keep his memory alive.
A Tribute Donation
Sometimes the best gift you can give is to help a charity that was important to the lost loved one. Oftentimes, the family will list a charity that you can donate to in lieu of flowers or gifts. If no charity is recommended, find one that relates to the late father's interests or perhaps an illness or disorder he suffered from. Some popular national charities include the Alzheimer's Association, the American Cancer Society, The Nature Conservancy, and ASPCA.